Do you have a treasured clock in need of attention?
I service, repair and restore a wide variety of domestic clocks, from mantel and bracket clocks to 18th century longcase and 20th century electrical clocks. My fully-equipped workshop is in the heart of the South Downs, on the West Sussex/Hampshire border. It caters for jobs both large and small, from simple servicing to making replacement parts, including the reinstatement of missing historical parts.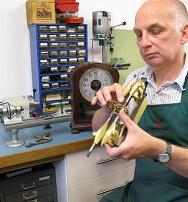 All clocks are precious, and I am as committed and enthusiastic about working on treasured family clocks of sentimental value as I am historic museum pieces. I typically visit clients to provide free quotations and my service also includes free collection and delivery within the local area. If you have a treasured clock in need of attention, please call me on:
023 92 631836 or email hello@jonbuttclocks.co.uk
My training
I trained as a horologist for two years at West Dean College and was awarded the Professional Development Diploma with Distinction. This internationally recognised conservation and restoration course is unique: it is the only practical, "bench based" course taught through the conservation and repair of historic clocks.
As well as being entrusted with museum pieces, students each make a weight-driven pendulum clock, creating every part from raw materials, down to the smallest screws. My tutor was the distinguished horologist Matthew Read, whose commissions have included the recent conservation work on the Bowes-Lyon Silver Swan.