Skills
My professional training at West Dean College equipped me with a variety of specialist skills. Although not all of the skills are regularly required in my workshop, they provide an excellent grounding for a wide range of projects, from the everyday to the more unusual.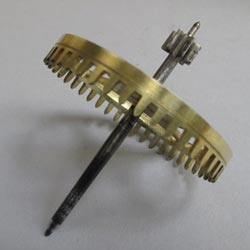 Verge reconversion
This contrate wheel was made from cast brass (to match the colour of the original brass) for a verge re-conversion undertaken on an early 18th century clock.
I hammered the brass to harden it, cut it roughly into a circle and then skimmed the faces using a wax chuck on the lathe. The teeth were cut using modern Thorntons cutters, although two cuts were made to give the tooth profile an authentically old look.
The central section was then cut out, the crossings cut and filed, and finally I colleted the new wheel onto an original arbor.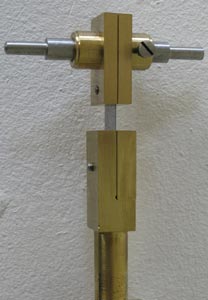 Electrical Clock
I made this pendulum suspension for a new build electrical clock, now on display at West Dean College. It's an exact replica of the suspension from a synchronome master clock, with all parts made from scratch including the screws.
The clock was based on a design which appeared in a 1938 copy of "Practical Mechanics". Once the brass had been lacquered, it was difficult to distinguish it from the original that was being copied.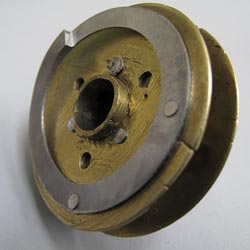 Weight Driven Clock
This click spring was made for an early weight driven clock, since the original click spring, which still just about worked, had split into two separate pieces. Failure of the original click could have damaged other components.
I made it by cutting a circle from sheet steel, cutting out the centre, and then filing the variable thickness by hand. The chain pulley had to be dismantled, the new click riveted into place, and the pulley riveted back together.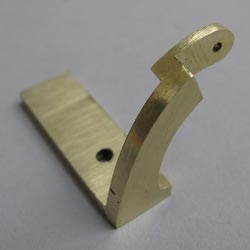 Verge reconversion
This top potence for a verge reconversion was made from strips of old clock plate hard soldered together. Old brass was used to get a good colour match.
Whenever possible, for economic reasons it's better to use one of the available modern castings that are available for potence manufacture, although this one had to be fabricated owing to its unusual shape.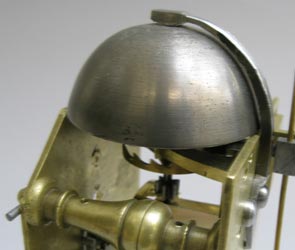 Alarm mechanism
I made this bell stand (and in fact the entire alarm mechanism) for an early 18th Century clock.
The original iron bell stand would have been forged, but mine was cut from gauge plate, filed and hammered so that it complemented the other forged iron on the clock.